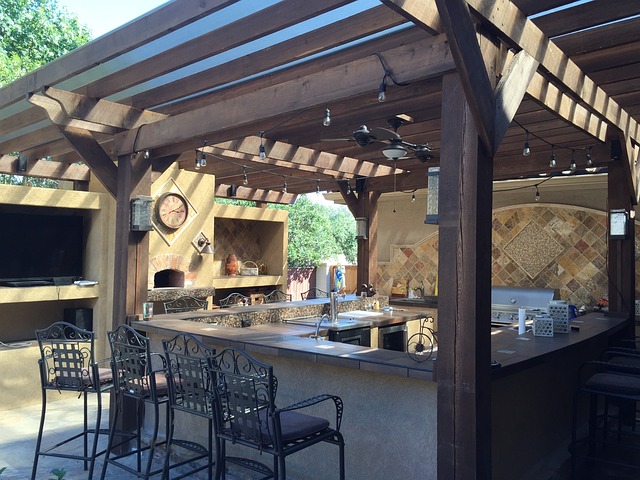 If you have a passion for outdoor cooking and entertaining, sufficient backyard space, and a budget for home renovation, an outdoor kitchen can be an ideal addition to your home. With an outdoor kitchen, you can enjoy more time outdoors, entertain guests and family, and enhance your overall outdoor experience. In this article, we will explore some of the main reasons why you should consider investing in an outdoor kitchen.
Outdoor kitchens come in many different shapes and sizes, ranging from basic setups with a gas grill, mini fridge, and sink area to extravagant designs featuring fully-equipped kitchens with stainless steel appliances, granite countertops, multiple grills, a pizza oven, and even a dishwasher. Regardless of the chosen size and features, an outdoor kitchen constructed with top-notch materials and components offers the potential for a lifetime of enjoyment. Among the favoured options for outdoor kitchens is stainless steel due to its durability and resistance to adverse weather conditions.
Why You Should Invest in an Outdoor Kitchen
Lower Energy Bills
An outdoor kitchen offers an innovative and cost-effective approach to energy conservation. Despite the initial investment, like other energy-saving measures, the return on investment is substantial. Utilizing your outdoor kitchen frequently allows you to cut down on energy expenses. Cooking outdoors helps in reducing the temperature inside your house, resulting in less strain on your air conditioner. Consequently, you can save on energy costs while maintaining comfort. Though an outdoor kitchen might not be immediately recognized as an energy-saving tool, it proves to be a prudent investment with long-term benefits. For recipes to make in your outdoor kitchen see outdoor kitchen recipes.
Entertain in Style
Having an outdoor kitchen offers an excellent means of entertaining guests in the convenience of your home. Instead of depending on restaurant take out, you can prepare delicious meals for family gatherings, summer barbecues, birthday parties, and pool parties. The allure of gathering around the grill creates a fun and interactive experience for everyone. Assuming no Covid-related restrictions, an outdoor kitchen becomes a fantastic way to entertain and fully utilize your backyard space.
Increase Your Home's Value
Outdoor kitchens are gaining popularity, especially in regions with favourable year-round weather. Incorporating an outdoor kitchen into your home can elevate its value, making it more appealing to potential buyers. This enhancement can lead to a higher selling price when you decide to put your property on the market. Additionally, having an outdoor kitchen in a neighbourhood where it's not a common feature can set your home apart and boost its desirability. Apart from an outdoor kitchen, you might also consider the addition of a modern pergola.
Eliminate Cooking Odours
Having an outdoor kitchen helps in keeping cooking odours outside, thereby eliminating the possibility of unpleasant smells inside your home. This proves to be especially beneficial for dishes with strong odours, like onions or raw fish, as the aromas disperse rapidly in the open air, unlike indoor kitchens where they tend to linger. However, it's important to be aware that the enticing food smells might attract wildlife, such as bears or other creatures in your neighbourhood.
Eat at Home and Save Money on Eating Out
Incorporating an outdoor kitchen and dining area in your backyard presents an excellent opportunity to cut down on dining expenses when eating out. Given that restaurants can be quite expensive, particularly if you dine out frequently, opting to eat at home allows you to retain more money in your wallet while relishing delicious meals.
Improve Your Food's Taste and Health
Outdoor cooking, particularly grilling, is frequently linked to healthier eating habits. Health and nutrition experts have lauded this cooking method for its clean and lean attributes.